After getting my PHD'ed Genius Doctoring Degree, I was ready for adventure, and wanted to give something to those with nothing. Instead of working at some fancy clinic with electricity and medicines, I excepted work in Malayshiana, and soon opened the very first
Hollydale Clinic
. We practiced with care, and did surgery with steak knives and whisky. The only charges made for our labors were fruit and chickens. It was a very happy and fulfilling time in my life, but I was dipping into the whisky a little too often.



Before I knew what hit me, I found myself on skid row in TiePay. Every day was a test of how to make enough money for my booze and a pack of
camels
. Usually, I found myself making out with a toothless and fowl woman from the poultry canning plant down the road. My one rule? .... "NO FRENCHING". Yes, my scruples were at an all time low.


To purge myself, and become one with my Che`, I took a sabbatical on the island of serenity ... owned by
Miss Moneypenny CPU
. Yes, this is the
Shoal Lighthouse
on the Detroit river. My daily duties kept me busy .... and soon I was sober. Days there were lonely without a doubt, but at least I was not a drunken street gigolo any more. With my new found inner strength, I paddled to shore, and ventured back into Doctoring work.


The first person to give me another chance was
Doctor Pepper
, an old friend from college. I owe him a lot, and regard him as my Caliente` mentor. Medical faith in me quickly improved, and soon I was right there in the swing of things at the golf course. Monday and Tuesday were "on duty" at the Hospital, even though I hate working two days in a row. It seemed a small price to pay for my life back.


There was only one stymie in the mix. The head nurse
there
, (Veronica Croutons) was a succubus ... and MEAN! She made me miserable. I hate to say this, but I had evil thoughts sometimes, and even made a few false allegations against her. She was fired after my claim that she put corn dogs up patient's urethras.


The nurses station was fine after that, but it needed something .... someone with a flair and talent for healing. Someone who was kind, witty, and - well, you know.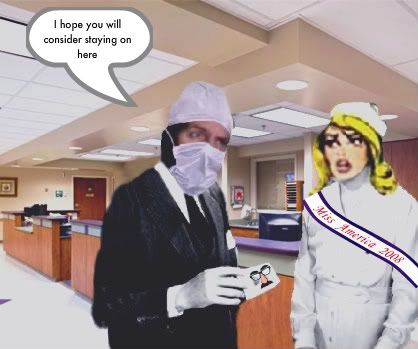 That's when I met Amanda Hugankiss, the finest head "transplant"... nurse in the business. She was a pure joy to work with, and rather than loose her to Doctor Pepper, we started our own clinic together back in Hollydale.
That was 5 years ago ...
Today, the Doctor Shoal / Hugankiss Hospital has grown to a full service, state of the art facility. We are regarded as a world wide leader and authority on new procedures, expert patient care, and outstanding recovery rates. Honestly, without the help of Nurse Huggans, the dream I am living now may have never happened. We decided to open our "
medical doors
" to the public, and both have blogs about our life and adventures at the clinic.
Make sure to stop in for more incredible news every week, both here at the Doctor Shoal's, and
at the "
Nurse Amanda Hugankiss
Blogspot"
... also see
Just Playing Doctor and Nurse
, a commentary of actual comments.
From the archives - (right) this is the very first patient at the Clinic,
Doctah Shoal's Favourite Patient (LOL!)
Drowsey Monkey.

Ahhh, such wonderful memories.
<